Welcome to HowToChangeHim.com – a Blog that provides tips, tools and strategies to win back your soulmate and the spark in your romance.
My name is Karen Gosling and I'm a pioneer in the field of personal development and human wellness. I'm an experienced Global Relationship Coach who is passionate about helping you change your man… and have him like it!
I know that relationships aren't always easy … In fact, sometimes they are downright dreadful! But we humans are social creatures and designed to be in relationship, and the research tells us that we live longer and are way healthier if we are in a happy relationship.
So that's a pretty good reason to renew yours!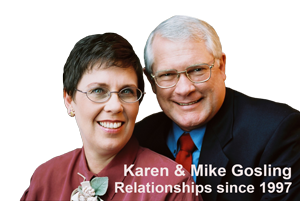 My husband, Dr. Mike Gosling, and I are full time coaches, counselors, and mentors making a living from our activities in our Membership Site at https://RelationshipsMe.com on the internet and face-to-face consultations via Skype and in our rooms at Labrador, Gold Coast, Australia.
This blog is our way of giving back… Our aim is to share much of what we have learned in our own relationship, and from others we have given relationship advice to, to help you change your man.
Got a question? Please use the email address or complete our 'Say Hello!' contact us form below.
For more information on our Global Relationship Coaching activities, join our Members Free Content area at RelationshipsMe.com.
Warmly,
Karen
Google+