Welcome to HowToChangeHim.com
My name is Karen Gosling. I'm the only marriage coach in the world to promise you a Happy Passionate Marriage within 8 weeks… or I'll work with you until you do.
I'm passionate about helping you change your man… and have him like it!
I know that relationships aren't always easy … In fact, sometimes they are downright dreadful! But we humans are social creatures and designed to be in relationship, and the research tells us that we live longer and are way healthier if we are in a happy relationship.
So that's a pretty good reason to fix your troubled marriage!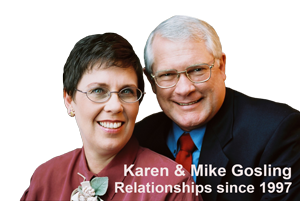 My husband, Dr. Mike Gosling, and I are full time marriage coaches, counselors, and mentors helping couples in troubled marriages through.
My website at https://karengosling.com.
Face-to-face and Skype consultations in our rooms at Labrador, Gold Coast, Australia and
Our Membership Site at https://marriagology.com using Zoom online meetings and our members Facebook group.
This website is Relationship Quiz is to help you discover what type of partner you are in your relationship.
Got a question? Please use the email address or complete our 'Say Hello!' contact us form below.
Warmly,
Karen